GENTWO Factsheet
The s
ecuritization of

bankable and non-bankable assets

in Swiss Securities (Swiss ISIN).

Learn more about the GENTWO Financial Products and all issuer services & administrator services in our GENTWO Factsheet with information about:
What we are: Creators of the next generation of financial products and innovators regarding products, business models and processes.
Who we are: A team of dedicated financial experts that united decades of (investment banking) experience to assist clients and partner in a purpose-oriented way.
What we do: We securitize bankable and non- bankable assets with Swiss ISIN, no issuer risk (off-balance sheet) and at a minimal price.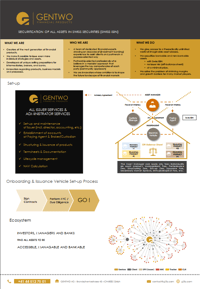 Download our GENTWO Factsheet by submitting the form.